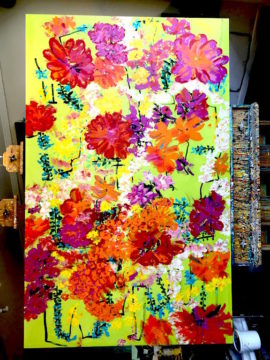 We all know the saying: when life gives you lemons, make lemonade. This phrase is meant to give the receiver a "chin-up" type of approach to their less than ideal situation: adapt, overcome, and make do with the best you can.
Abstract artist Jim Klein found himself having to adapt a few times while attempting to finish one of his recent works, Lime. He took a moment to share his experience with painting his larger-than-average artwork.
How did Lime come into the world?
Jim: As is often the case with abstract art, this painting didn't start out as I had intended at all.
The background began with a deep avocado green, but the paints kept turning bright. The more I tried to direct the paint and change it to stay muted and dark, the more bright lime it decided to go. So I decided to listen to the paint, as there was no use arguing.
Even the orientation of the canvas changed throughout the painting process. I began with the canvas horizontally. As you can see, this canvas is massive at 60 inches in length and 96 inches in height. It's a very large piece. So large, in fact, I had to take Lime outside to paint.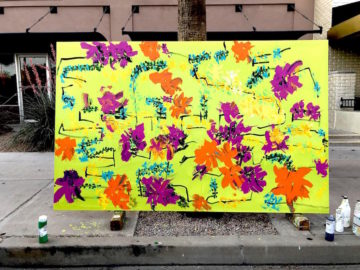 Did being outside help your process?
Jim: It did! I had started Lime inside the Art Factory, where we have a grand piano for Art Walk nights that local university music students are invited to play during our events.
While I love having the piano in this creative space, it does not leave as much room for painting large projects, especially compared to what I have on the Farm Studio in Colorado. I often paint outside the Art Factory because of this, but I honestly don't mind too much.
Feeling restricted can be counterproductive to the creative process, so I hauled the large unfinished Lime canvas to the sidewalk outside the Art Factory. You can see the palm tree I used as part of my easel in the second photo. From there, the rest of the piece came together.
Where do you think this attraction to a bright lime color came from?
Jim: Well… key lime pie is my favorite dessert, so maybe that's why this color was so insistent on making itself present…
When I was in Key West five years ago, I was on a mission to find the perfect key lime pie. Not surprisingly, many places down there advertise themselves as having "the best". So, naturally, I wandered from cafe to cafe trying each one and ended up making myself so sick I couldn't even determine which one was the best! Perhaps some of that memory was triggered after painting the Key West Series, and came out in the lime color of the background? We have so many things hidden inside; it's always interesting to see how these make their way out.
Back to Newsletter…