For those who weren't around when the Art Factory was first opened, what is the Art Factory?
Jim: A couple of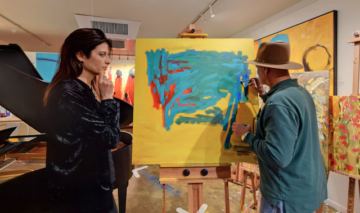 years back, a large vacant space opened up next to the gallery for around 3 months. While in transition between renters, I had the opportunity to use it as an experiment. We transformed the space into a working studio area, where I could paint and passersby could watch through the many windows or come in and interact with me as I work. The experiment was a total success and our gallery received a lot of notoriety because of it.
Once the next renter came in we had to close the space but we've had many clients come in asking about the Art Factory since then. We now have the opportunity to reopen and we're very excited to have a working studio once more!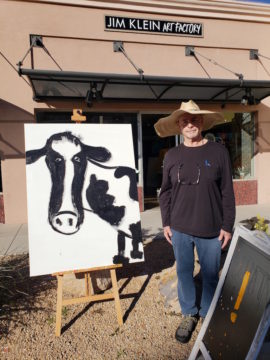 Will this version of the Art Factory be any different?
Jim: The main difference between this version of the Art Factory and the first is the current space is much smaller. This isn't a bad thing as I really don't mind a limited area to work. It's almost like a laboratory test tube in a way, and we'll see what creativity erupts from that.
Do you prefer working in this open, audience-accessible space versus the seclusion of the Farm Studio in Colorado?
Jim: Being in the public does energize me as an artist. I've found that most painters prefer solitude when creating, but I love interacting with people as I paint. It's especially fun painting around kids, they really get a kick out of it.
Not that I don't enjoy the Farm Studio as well. Growing up, I was taught you work where you're at so I paint where I'm at.
I have a friend who is a fantastic music writer. One day I asked him what the secret is to writing music and he told me it's simply picking up a pencil. The same applies to painting; just pick up the brush and listening to the colors, regardless of the size of the canvas.
The J Klein Art Factory is open Thursday nights! 
7012 E. Main Street | Scottsdale, AZ 85251
Inauguration of the Preludes
Composed by Jim Klein and Ian Jamison
Performed by Katie Hughes