VISIT THE J KLEIN GALLERY
"'Flowers and Roots' arrived as scheduled and we hung it last night.  It looks wonderful in our home hanging in the den.  We are delighted with it.  Thanks for all you did to make this experience fun and satisfying.  It was a pleasure meeting you all."  ~ Joan and Tim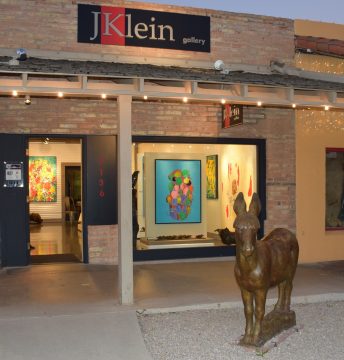 Voted "The Best of the City," in Modern Luxury's Top 5 Art Galleries in Scottsdale AZ. This welcoming, yet innovative Scottsdale Gallery showcases energetic and contemporary artwork from 3 family artists: Jim Klein, Jeffrey Berryman and internationally known bronze sculptor, Dan Ostermiller.
The J Klein Gallery is in the heart of the Old Town Scottsdale Arts District. Located on the "America's Original ArtWalk," this area boasts a captivating self-guided tour through the Scottsdale Art Galleries, showcasing thousands of artists, drawing art-lovers in from all over the world.
Our Online Gallery extends the ability to assist art enthusiasts in discovering the contemporary art that they love, regardless of where they live. Artwork can be viewed and purchased at any time anywhere!
The bright contemporary showroom of the gallery facilitates collector acquisitions and deliveries and curates a variety of exhibits and events. Our Art Consultants also work with organizations to display art that reinforces and enhances their company's message.
We are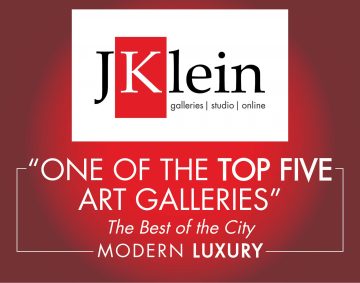 delighted to support your pricing, shipping, news or event questions.  Call or email to receive a complimentary consultation to discover the ideal artwork for your home or organization.
OUR LOCATION
J Klein Gallery
7136 East Main Street
Scottsdale, AZ 85251-4315
Phone: 480-941-3442
Email: info@jkleingallery.com
GALLERY HOURS
Monday 10-6 
Tuesday 10-6
Wednesday 10-6
Thursday 1-9  
Friday 10-6
Saturday 10-6
Sunday:  Noon – 6
Check Us Out on Yelp