What's in a name? That which we call a rose
By any other word would smell as sweet.
~ William Shakespeare, Romeo and Juliet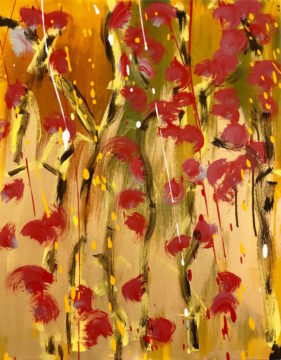 Abstract Artist Jim Klein took some time to explain the interesting name behind his floral painting, "Bogumila".
What is the story behind the name of "Bogumila"?
Jim: I have quite a story to tell about "Bogumila".
One day, I was painting in the Art Factory, which as you know, is located next to the studio.
As it became later in the evening, I decided to take a break and head over to a restaurant only a couple of blocks away. As I enjoyed my dinner, I brought along my iPad to look over some paintings that I was struggling with titling at the time.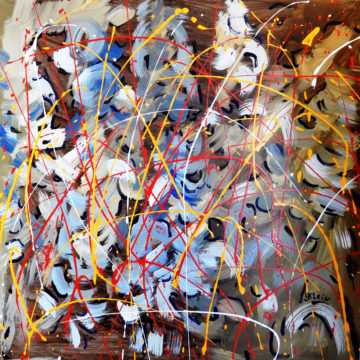 When I'm out and about, I have a tendency to bother people and ask their advice on what they see when they look at one of my paintings.  This evening, there happened to be a nice couple seated next to me. I showed them the photos of the paintings and asked them what they thought what certain ones should be named. The husband pointed at one, and he said "Sturgis". That stuck, and, after dinner, I walked out happy having one less painting to title.
The reason I told this part of the story is so everyone knew why I was walking back from that particular restaurant on that day. About two blocks away from the Art Factory, I walked by this beautiful floral arrangement right in front of another restaurant. I decided to stop in. A nice lady was there cleaning tables, so I  pulled out my iPad and showed her another painting. After I asked her what it reminded her of, she told me "bogumila". The name stuck as well.
When I went back to the Art Factory, I researched "bogumila" on the internet and was greeted with beautiful images of flowers and vines. It was made official after I wrote "Bogumila" on the back of the canvas.
Back to Newsletter…
Bougainvillea is a genus of thorny ornamental vines, bushes, and trees with flower-like spring leaves near its flowers. They are known by many different names around the world: buganvilla (Spain), bugambilia (Mexico, Guatemala, Cuba, Philippines), bouganvilla (India), pokok bunga kertas (Indonesia, Malaysia), bougenville (Pakistan), Napoleón (Honduras), jahanamiya (Arab World), veranera (Colombia, Nicaragua, El Salvador, Costa Rica and Panama), trinitaria (Colombia, Panama, Puerto Rico, Dominican Republic & Venezuela), Santa Rita (Argentina, Bolivia, Paraguay and Uruguay), papelillo (Northern Peru), primavera (Brazil), Drillingsblume (triplet flower, Germany), and vukamvilia (Greece).