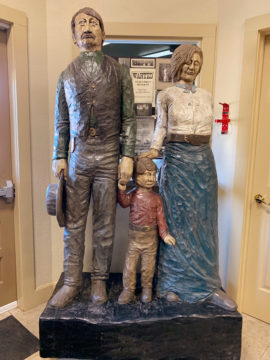 Abstract artist Jim Klein is a fourth generation Coloradoan. His grandfather came over in covered wagons and settled with his family in Colorado. His family is a long line of hardy farmers and prime examples of the pioneer spirit.
As longtime readers may recall, Jim ran a successful business in the agriculture retail industry for decades, with five locations across Colorado and Wyoming. In 2010, a major international competitor located near two of his locations and hired away many of Jim's employees. It was a very challenging loss for his company.
While dealing with this intensely stressful situation, Jim reflected on his family, his roots, and the foundation of how he was brought up: "In this family, you put your stake in the ground and you go to work under any circumstance." Jim felt this ancestral resiliency and knew what his next move should be.
This brings us to Jim's dear friend and mentor Bill Fifield, a wood sculptor and carver. He and his wife Sandy were both artists living in the mountains in Conifer, Colorado.
Jim approached Bill to commission a piece celebrating the tenacity of the pioneer. "I was looking for something depicting a pioneer family arriving and ready to settle, to start their new venture," Jim explained. "They had just exited off the wagon. They were ready for the next stage of their journey."
Bill set to work researching. He collected and studied old photographs from that time period to capture the appropriate attire and sense of purpose. He used live models (including himself) for the life-size sculpture and selected a 1,700 pound solid piece of limewood to craft the pioneers.
Bill completed the piece in early 2012 after four months of working full time on the project.
The unveiling took place in Yuma, Colorado at the site of Jim's business location in March 2012. Bill removed the black cloth and there, The Pioneers was revealed. The local paper The Yuma Pioneer wrote an article on the event, and quoted Bill's written thoughts about this powerful carving:
"[The sculpture] represents the quiet dignity and power of those who came before us. It represents their willingness to stand firm in the face of whatever may come. They may seem a little tired but that doesn't matter; they have each other. Their family love can be seen in the pose. Their persistence can be seen in their faces."
Jim recalls watching the crowd as they studied the sculptured faces of the pioneer family. They seemed as transfixed as he was. Jim focused on the face of the smallest figure in the family; he felt the child looked almost startled. The detail scored within the wood was amazing, reflecting the worn expressions of an indomitable family, tired but prepared for the next chapter of their journey. A powerful piece of art and history.
After the event, Jim, Bill, and Sandy went to lunch together where Jim asked his friend about the sculpture and his thoughts about the child. "Towards the end of work, I had
a hard time seeing the child," Bill told him. He carved the child last. "While working on the pioneers, I wasn't able to see through the center of my vision, only the peripheral. I had to finish through instinct as I carved." A small sign of news to come.
Life can be startling that way.
The weekend after unveiling his work, Bill was taken to the emergency room after experiencing a severe episode. Several days later he was diagnosed with a brain tumor. Doctors gave him a very short time to live: several weeks to a month. They told him to get his house in order.
Jim was devastated for his friend. He asked Bill if there was anything he could possibly do for him. "I want you to create a picture once a week and send me a copy," Bill told him bluntly. "Just do it and don't tell me it sucks and you can't throw it away."
So that's what Jim did.
Every week, Jim sent Bill a piece of art. He started with a black marker and printer paper. Later, he moved on to colored graphic markers. Then Bill encouraged him to try acrylic paint on canvas.
Jim's work evolved from simple sketches to colorful works that reflect his love of nature, music, and life. This promise to a dear friend is what launched Jim's painting career in earnest at the age of 63 after many successful years as an entrepreneur in the agri-business sector.
Bill continued to encourage Jim in his artistic endeavors until he passed away in 2013.
The Pioneers has since been moved from Jim's former business location and found its place at the Kersey Historical Museum, gifted there by Jim. "Kersey is the perfect home, a classic pioneer town," Jim explains. "I remember growing up here and visiting the train station with my father. There'd be a fellow, the station master, there in his uniform. We could send telegrams to Chicago. I was so fascinated as a child at how the clicking of the telegraph and morse code became a message. There's so much history here."
From the lessons he learned from Bill Fifield, Jim discovered there's a Beethoven, Van Gogh, and Emily Dickinson inside each one of us. "We might have this persistent voice that doubts us and claims how foolish we are or how inept we are; that we can't do whatever we're trying to do," Jim shared, echoing the words of his friend. "Once we are freed from that voice, the creativity and the artist is able to come out."
Today, Jim continues to bring his artistic vision into the world through the Farm Studio in Kersey, Colorado as well as the J Klein Art Gallery and Art Factory in Scottsdale's Arts District. His and his family's lives are entrenched with art and have even delved into classical music. Every visitor to these artistic spaces is met with enthusiasm and encouragement to discover the artist within themselves, as his friend had done for him.
Read this month's newsletter HERE.