"Every canvas is a journey all its own." – Helen Frankenthaler, American abstract expressionist painter
Abstract contemporary artist Jim Klein practices a unique and efficient painting technique you may not have heard of before: peripheral art. With this practice, Jim creates a series of paintings simultaneously by arranging the canvases in a circle while using the same palette of paint. You can read more about his personal practice here.
A recent batch of peripheral art paintings was completed on the street in Scottsdale, Arizona and Jim took a moment to discuss the meanings behind a few pieces of his artwork.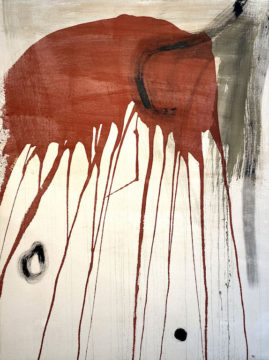 What inspired the name of "Font"?
Jim: If you can believe it, the first title for this work was almost "Elephant". When I was painting outside, many folks walking by told me they saw an elephant forming within the paint, which is wonderful as that is the viewer's personal interpretation.
However, with abstract art, I try not to choose a title that leads the viewer toward a conclusion of what the art represents. I decided on a title that wouldn't lead the viewer and thus "Font" was chosen.
In addition to the peripheral art group, "Font" was also part of a raw canvas experiment. Raw canvas refers to canvas that hasn't been treated. Artists enjoy experimenting with treated/untreated canvas to achieve different textures and visual effects with their strokes. (Jim discusses raw canvasses more in this blog.)
As"Font" was part of the peripheral art group, I had leftover wash and paints from going around the canvases. I really dislike wasting paint whenever I can help it. Thus"Font" appeared from the remains of the paint.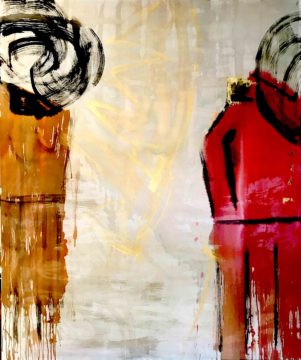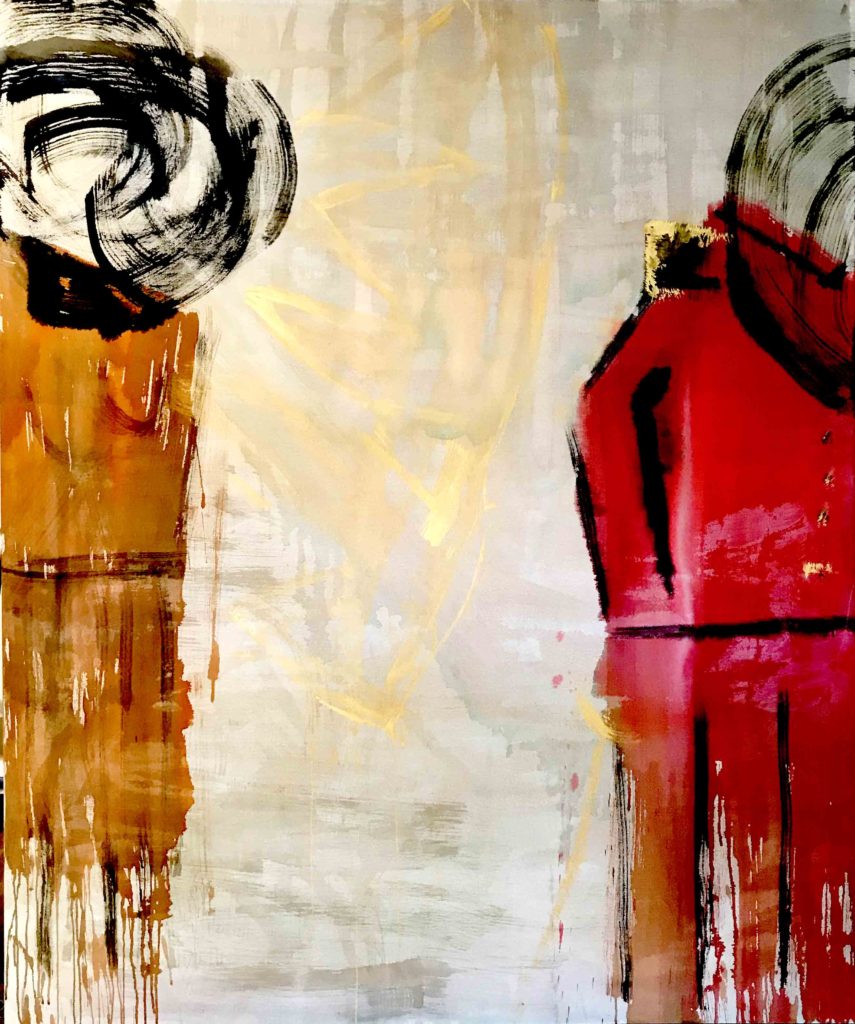 Can you explain the story behind "King Edward's Debacle"?
Jim: Another painting from the peripheral art round, "King Edward's Debacle" was inspired while working on an upcoming collaborative album with my colleague Ian. During our work, we hit a speedbump during one of the songs that quickly became a debacle. This was a rough spot. It felt like an unsolvable problem with no right or wrong way to turn.
During our discussions on how to move on, Ian and I realized we had a very difficult choice ahead of us, and it had to be made while carefully considering the outcomes on both sides. I think we've all been in that situation before: we don't know what the outcome might be but we have to make a decision.
As these things tend to go, this difficult decision brought to mind the abdication of King Edward VIII. King Edward wished to marry Wallis Simpson, but due to circumstances surrounding their romance, it was intensely ill-advised. He was left with three options: give up the idea of marriage to Simpson, marry against his advisors' wishes and possibly cause a governmental crisis, or abdicate. Faced with these choices, King Edward chose to abdicate the throne and marry Wallis Simpson. I was inspired by the difficulty of our situation and the former King Edward's, thus the painting was born.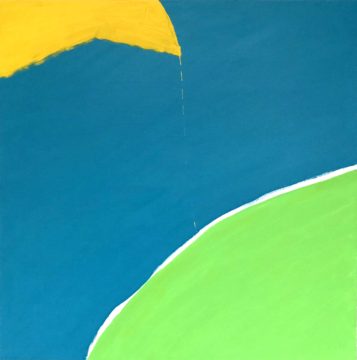 "Under the Yellow Umbrella" is also part of the peripheral art group, but there's extra to this as well, is that correct?
Jim: Our story begins in early 2020 before the pandemic really hit the States. As you may know, the J Klein Gallery and Art Factory are located in Scottsdale, Arizona where the weather is often wonderful, sunny, and warm. Such lovely conditions might be great for a day by the pool but can make it difficult to paint for a long time in the heat.
Hoping to fix this situation so I could comfortably spend more time outside, I found a large yellow umbrella and now complete most of my outdoor painting under its ample shade. This umbrella has since become somewhat of a staple on the street and even has its own legend. Whenever we pop open the yellow umbrella, it's become such a local fixture that folks have learned there will be art on the street.
What is the Legend of the Yellow Umbrella?
Jim: The legend goes that if you step under the umbrella and embrace your loved one, this is an embrace for eternity! You are meant to be and will meet again in the afterlife under its shade.
Under the Yellow Umbrella, King Edward's Debacle, and Font are all available for sale!