"My life has been nothing but a failure."
~Claude Monet  
No artist is immune from the art slump.
If someone as prolific as Monet had such a moment as to produce the quote above, every artist can expect to experience a period of time where they feel dampened spirits and throttled creativity. While frustrating, there are techniques one can practice to bring the artist out of the slump and back into a creative energy.
Abstract artist Jim Klein had the inevitable misfortune of going through one such slump, but shared a very effective way of moving through.
In your opinion, what can cause an art slump?
Jim: An art slump can be caused by anything. From my own experience, I believe being focused on creating music with the right combination of life events creates the perfect conditions for an art slump to take hold. Certain stressors – especially in this stage of life – can be very effective in taking focus off the canvas.
How did you beat your slump?
Jim: Well, if I had to choose when to have an art block, the timing couldn't have been better. I had planned a trip months ago with some old college friends to visit the Monet exhibit at the Denver Art Museum.
The exhibit was wonderful and extensive. Monet's best works were on display and offered a great feel for his genius. The museum provides you with a little audio device that plays a recording corresponding to each exhibit by number, offering background information on each piece. It was informative, but after awhile I opted to put the device away, allowing my own interpretation to reveal itself through the artwork.
Did the Monet exhibit help rekindle your creativity?
Jim: As I moved through the exhibit surrounded by Monet, I could feel the creative energy starting to return. I wandered throughout the museum, spending my time gaining different perspectives on the paintings. Have you ever watched a Monet painting closely? Approaching one of his works from very close to far away, the image transforms from indistinct patches of color into a clear, crisp scene. How did he manage to accomplish this?
I couldn't keep myself from exploring this effect. Walking back and forth, viewing up close and far away. I'm certain my fellow visitors thought I was crazy. At one point, a member of the security force pointed out to me that I had found myself apparently too close to the artwork. I listened to him, of course, although I couldn't help but continue to observe, realizing the tremendous genius required to transform what he observed to the end piece of art.
Monet's incredible work rekindled my creative energy; he gave me a wonderful drive to try new things on canvas. I felt inspired.
What advice do you have for other creatives who find themselves in an art slump?
Jim: It's important to remember we all have slumps that cause us to lose focus and feel uninspired. It's good to have people around you and events to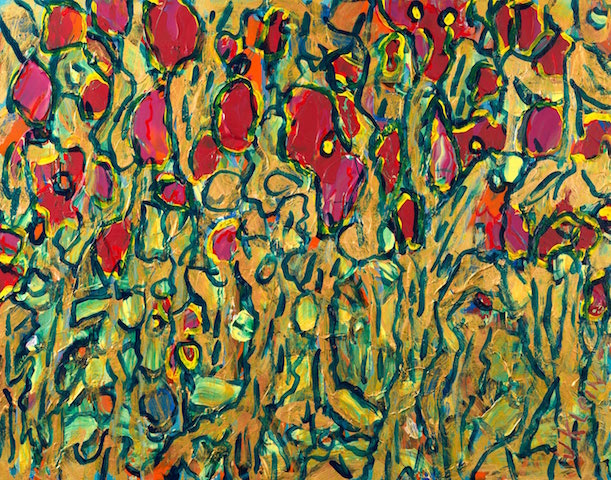 restore focus. I find it helpful to rediscover creativity by "getting back to the basics." Don't overthink it. You could attend a Monet exhibit, spend time outdoors on a hike, watch your favorite movie.
When we're in a slump it's time to be open-minded, look at new ideas and welcome new thoughts. Life is a discovery as we go forward.
If you're looking for artwork similar to Monet's signature floral paintings and don't wish to travel to Denver, look no further than Golden Florals.
Additional floral artwork can be seen on the Online Gallery category Florals.
Click here to see more of Jim's floral artwork.
Click here to return to newsletter…