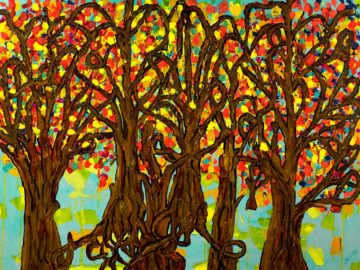 According to Wikipedia, red maple is one of the most common and widespread deciduous trees in North America- perhaps, because it is adaptable to a very wide range of site conditions. Red maples can be found growing in swamps, on poor dry soils, and most anywhere in between.
While red maple is found in the eastern half of the continent, its hardiness and perseverance has something in common with the western spirit.
""Red Maples" just took off on its own. I definitely had thoughts of maple trees right from the start," says Jim when asked about his inspiration for the painting. He chose to depict the trees all tied together, rather than as separate entities. They are more like one tree, connected through the movement of the limbs and also the roots. "The roots are one of the most integral parts of a tree, and are definitely accentuated in this piece," Jim adds.
The story behind "Red Maples" materialized toward completion of the painting as Jim was trying to come up with a title. He thought about where he'd first experienced maple trees and remembered a trip that had a big impact on him.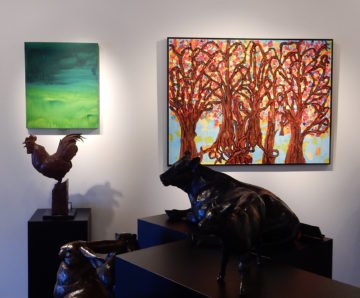 While he and his wife were visiting relatives near Bloomington, Illinois, they stopped at the Funk's Grove Maple Syrup Farm.
According to Funk family history, the syrup-making tradition actually began with the Native Americans in the area. The Funks began producing maple syrup in this stretch of native timber in 1824, first for themselves and, starting around 1860, as a commercial operation.
The family also developed a corn seed company. "It was a main brand at one time and is a name that resonates with lot of older farmers. It really resonates with me," Jim explains. Today, "Funk's Grove Maple Sirup" is something of a tourist attraction, where visitors can purchase syrup, maple candy, and maple cream, as well as Route 66 souvenirs. What caught Jim's attention there, though, were the trees. "They made a big impression with their striking color," he says.
Years later, those trees emerged as an inspiration for his art. Jim is especially proud to share that "Red Maples" is one of his first paintings to gain positive recognition from an art expert.
Other artwork featured in this blog: "South Platte Meadow", "El Pollo Loco", "Scottish Angus Cow and Calf".
To visit the Online Gallery and view more of Jim's paintings, click here. To see more of Dan Ostermiller's bronze sculptures, click here.