J Klein Gallery has the honor of announcing that Jim Klein has been selected to be an exhibitor at the 2020 Cherry Creek Arts Festival!*
The 2020 Cherry Creek Arts Festival will feature 250 juried exhibitors, including 13 artist award winners returning from the 2019 show and 5 Emerging Artists for the 30th Anniversary Show.
This year's exhibitors were selected from over 2,057 artist applicants, making acceptance very competitive throughout the jury process. The panel of jurors was comprised of: Ali Marie Geiman (Denver, CO): Studio Chief and Artist Manager; Corey Pemberton (Los Angeles, CA): Mixed Media Artist and 2019 CCAF Award Winner; Mai Wyn Schantz (Denver, CO): Artist/Gallery Owner of Mai Wyn Fine Art; Bill Starke (Greeley, CO): Sculptor; Daryl Thetford (Chattanooga, TN): Digital Artist and 2019 CCAF Award Winner.
Thousands of nationwide ap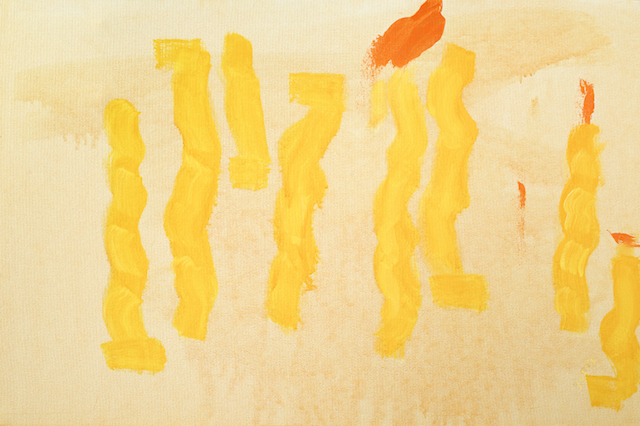 plicants entered and, of the pool, only 35 painters were selected to exhibit.
"I know the Cherry Creek Arts Festival is extremely competitive, so it was a real thrill to be accepted," said Jim Klein.
After a blind jury and several rounds of decision making, Jim will have four paintings to display in the J Klein Gallery booth: Candles (pictured above), Hoops, Turquoise Phthalo, and Snail Rock Pond Reflections.
Join us Fourth of July weekend in Denver to celebrate!
Friday, July 3 | 10 AM to 8 PM
Saturday, July 4 | 10 AM to 8 PM
Sunday, July 5 | 10 AM to 6 PM
You can learn more about the Cherry Creek Arts festival here.
*We were notified at the time of publication that the festival has been canceled for 2020 but Jim looks forward to participating in next year's celebrated event.
To view the full newsletter and covid downtime discount click here…