Jim Klein will be an exhibiting artist at the 2021 Cherry Creek Arts Festival!
The 2021 Cherry Creek Arts Festival will feature 250 juried exhibitors, including 13 artist award winners returning from the 2019 show.
This year's exhibitors were selected from over 2,057 artist applicants, making acceptance very competitive throughout the jury process. Thousands of nationwide applicants entered and, of the pool, only 35 painters were selected to exhibit. "I know the Cherry Creek Arts Festival is extremely competitive, so it was a real thrill to be accepted," said Jim Klein.
After a blind jury and several rounds of decision-making, Jim will have part of his series "Eight Paintings for Piano" to display in the J Klein Gallery booth including King Edward's Debacle, Big, Fugal, Palomino, Three Words, and Lucky Seven. The series is set to accompanying piano music, performed by international pianist Adam Piotr Zukiewicz, and can be heard by visiting the linked product pages and clicking "play" on the audio player. At CCAF, festival-goers will be able to listen to the compositions via a QR code at the booth. "This series was very challenging for me, as the music and art reflect stories from my own life."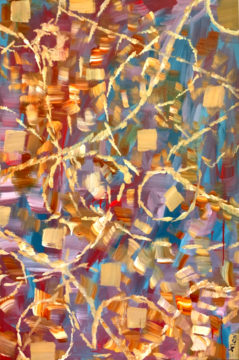 See you on Labor Day Weekend!
Saturday, September 4 | 10 AM to 8 PM
Sunday, September 5 | 10 AM to 8 PM
Monday, September 6 | 10 AM to 6 PM
You can learn more about the Cherry Creek Arts Festival here!