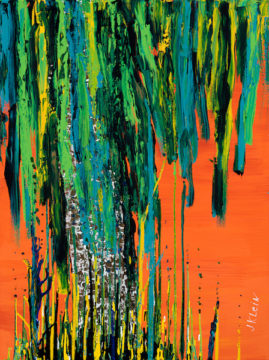 "It is the nature of the strong heart, that like the palm tree it strives ever upwards when it is most burdened."  ~Philip Sidney
For those who are unfamiliar with the horticultural or botanical nature of Old Town Scottsdale, you might be surprised to find a variety of palm trees lining the streets providing shade and a striking skyline as visitors wander beneath them. One particular palm tree sitting on Main Street in front of the Art Factory brought a wealth of inspiration to abstract artist Jim Klein. He took some time to explain the interesting day of painting that led to Fat Palm Tree, and how viewing things in a new perspective can make all the difference.
How did Fat Palm Tree come into the world?
Jim: Wearing my sombrero and trusty paint shirt, I had set up outside the Art Factory with my easel. After spending time covering the canvas in a really nice orangish-red wash, I retrieved my chair, sat and watched; I was trying to interpret the canvas and contemplate my next move. You see, I had this warm wash on the canvas that I really liked, so I needed to be careful from then on out.
I sat there for quite a while that day, watching my work. At that time, the shadow from a palm tree fell over the canvas. The shape of the palm's trunk and fronds inspired me. Grabbing my brush and a vibrant ultramarine blue, I outlined the shadow. As the sun continued to move, so did the shadow; I continued to paint, hoping to capture the palm.
I soon realized I had gotten myself into a difficult situation.
What made Fat Palm Tree so difficult?
Jim: Because the painting is very vertical and became more and more heavily textured as the day wore on. I really struggled through this one; I grew concerned I painted myself into a corner, so to speak. Layering all that texture on a great wash really commits you to the direction you go in and it the fact that this was a vertical canvas with a vertical focus made it particularly challenging. Balance and composition can be tricky in such situations.
How did you end up solving this problem?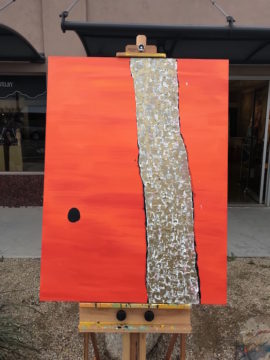 Jim: After some time using the remains of my paint pool from the Key West series, I decided to use a dripping technique to achieve that naturally rough effect you see in the finished piece. This kept me busy for quite a while, but I was never really satisfied with it. I grew frustrated…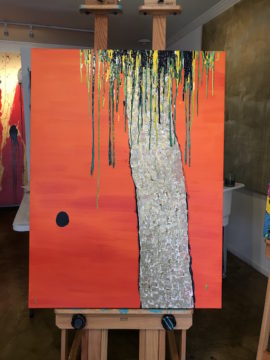 Until it hit me; I flipped the canvas upside down. From this new view, I worked in texture with my palette knife. And what do you know – this turned out quite nice! I painted in more of the drips and texture before stepping back to observe. Fat Palm Tree was reborn and salvaged.
The lesson here: don't be afraid to gain a new perspective. It really got me out of a jam!
Did you go out to the sidewalk that day intending to feature a palm tree as your model?
Jim: No, but I've always been very intrigued by palm trees; they're interesting characters, very messy and shedding their fronds everywhere. They simply tower the streets around Scottsdale. I grew up near the mountains of Colorado and palm trees are such a divergence of what I am used to seeing. It's just a different world in the middle of the desert.
It seems you've been having a tropical theme lately with other paintings like Cuban Sandwich Delivery. Is that intentional?
Jim: Summer is in full swing here, so maybe it's from wearing shorts and flip-flops.
Fat Palm Tree is hanging in the Art Factory and available for sale on the Online Gallery.